Wily Mo Pena Can Hit the Ball Real Far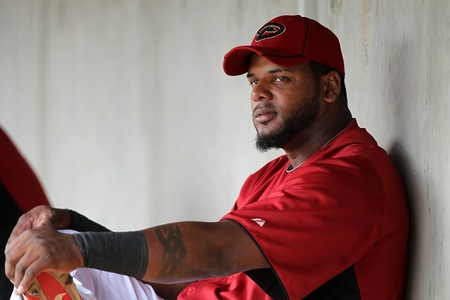 Looking for some power? Wily Mo is back and he likes to crush a lot.
441 ft later, Wily Mo Pena had made his mark on Major League Baseball for the first time since 2008.
The mammoth slugger hit his first home run of the season in his first big-league game last night, after getting the call for hitting .363/.439/.726 with 21 home runs in 271 plate appearances at triple-A Reno. The numbers were too good for the Diamondbacks to ignore, especially with the DH spot available in interleague play. Can Pena continue to blast home runs and stay in the Arizona lineup?
Wily Mo's biggest problem had always been strikeouts and along with his home run last night, he struck out twice in four at-bats. While at triple-A, Pena managed to limit his strikeout rate to about 20-percent, but we can certainly expect that rate to be higher against better pitching at the big-league level. Even so, there is at least some hope that he can limit his strikeouts enough to hold a .265-.275 AVG and make his power numbers worth owning.
The other question becomes playing-time. With Chris Young in center and Justin Upton in right, perhaps the only chance Pena has at playing-time outside of DHing during interleague play is in left-field. Gerardo Parra has received the most starts in left and has done a fine job both offensively and defensively. According to UZR, Parra has been outstanding in left, posting a 12.6 UZR in 475 innings to this point. He posted a 12.1 UZR in left last season, so even the small sample size seems to hold up in this case. At the plate, Parra has hit .275/.344/.397 with four home runs and six stolen bases in 227 plate-appearances. While that's certainly not great production, it's above replacement level. Dending on how the D-Backs value Parra's defense, it might be hard for Wily Mo to get enough playing-time, even if he crushes a few more homers in interleague play.
First base would seem like a possible option, but Pena hasn't played a single game there at the big league level. He did work some there at triple-A, but again, defense will be the question. Juan Miranda was getting on base at a decent clip for a while, but his current .233/.333/.427 line with six home runs isn't exactly inspiring. The D-Backs could role the dice on Wily Mo's defense and give him a good number of at-bats at first. However, even there he has competition in prospect Paul Goldschmidt, who is crushing double-A pitching the way Pena was crushing triple-A pitching.
For standard mixed leagues, Pena is probably not an option, but in deeper leagues where upside is harder to find on the waiver wire, giving Wily Mo Pena a speculation add isn't the worst idea. If Pena hits, then you'll have found a source of big-time power. If not, you can just as easily throw him back in waivers.
The Diamondbacks gave Wily Mo Pena a real shot to make it back to the big leagues and he could pay them back with much needed offensive production. If you're in a deeper fantasy league, the same could hold true for you.
Willy Mo Pena - WMP - Weapon of Mass Production
god I hope so...deeper league fate depends on it.